Harry Price, PhD
Faculty Director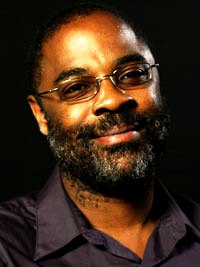 Harry Price joined Stetson in 2001 and is an Associate Professor of Chemistry. He has taught and conducted research at the university level since 1995. Harry received his BS in Biology and PhD in Chemistry from the University of Illinois at Chicago. As a postdoctoral fellow at Johns Hopkins School of Medicine, he carried out tropical disease research that focused on the development of drug resistance in the blood-borne parasite that causes African sleeping sickness in humans and related diseases in livestock.
As a faculty member at Stetson, Harry serves as program coordinator for the Biochemistry major offered by the Department of Chemistry and Biochemistry. He has been recognized for teaching excellence receiving Stetson's John Hague award, Stetson's William Hugh McEniry award, and the American Chemical Society's Outstanding Teacher at a Four-Year College award. Harry values collaborating with faculty and participating in interdisciplinary research. His research spans both experimental and computational chemistry. Student projects have ranged from the construction and characterization of biochemical fuel cells to the screening of bioactive constituents extracted from plants.
Jamie Clark, DMA
Brown Faculty Fellow for New Tenure-Track and Contingent Faculty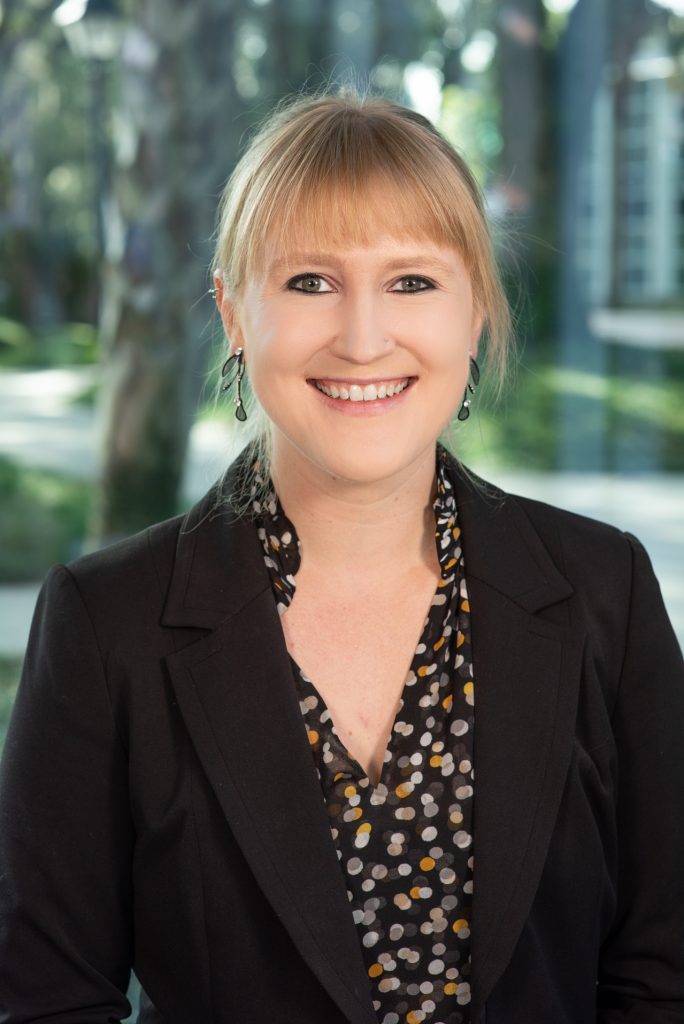 Dr. Jamie Clark currently serves as Assistant Professor of Cello and Coordinator of Chamber Music at Stetson University. She received her Doctor of Musical Arts Degree from the New England Conservatory in 2018 upon the completion of her dissertation "The Art of Rehearsing: A Multidimensional Study in Rehearsing String Quartets.".
Jamie was thrilled to join the faculty of Stetson University in the Fall of 2019. She has also served as a cello teacher and chamber music coach at the Phillips Exeter Academy, as well as teaching assistant to Laurence Lesser, Dr. Sean Gallagher, and Dr. Katarina Markovic at the New England Conservatory. She has also held recent teaching positions the Boston String Academy and the Newton Music School in MA. An advocate for cellistic education and a global cello community, Jamie serves as the Blog Master and Cello Chat Coordinator for the educational website CelloBello. Jamie received her Doctor of Musical Arts Degree from the New England Conservatory with Laurence Lesser. She also graduated with honors from both the Eastman School of Music (BM) where she was a student of David Ying, and the New England Conservatory (MM) where she was a student of Paul Katz
Melinda Hall, PhD
Brown Faculty Fellow for Scholarship and Publication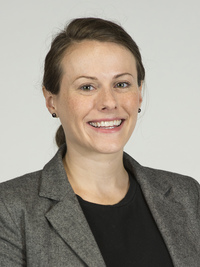 Melinda C. Hall (Ph.D., Vanderbilt University) is an Associate Professor of Philosophy at Stetson University. She specializes in bioethics, Continental philosophy, and the philosophy of disability. Hall is the author of The Bioethics of Enhancement: Transhumanism, Disability, and Biopolitics (Lexington Books 2016). The book draws on the work of Michel Foucault to demonstrate that disability is central to the debate over human enhancement. Hall's academic research is also published in Disability Studies Quarterly, International Journal of Feminist Approaches to Bioethics, The Stanford Encyclopedia of Philosophy, and Philosophy Compass, among other venues. Hall is the co-director of the Community Education Project, Stetson's higher education in prison program.
Lamerial McRae, PhD
Brown Faculty Fellow for Equity and Inclusion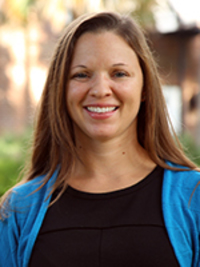 Lamerial McRae is currently an Assistant Professor at Stetson University. She earned a B.S. in Psychology, an M.A. in Marriage, Couple, and Family Counseling, and a Ph.D. in Counselor Education from the University of Central Florida. She is a licensed mental health counselor (LMHC) and Approved Qualified Supervisor (AQS) in Florida and her clinical experiences include working with children, adolescents, and adults in hospitals, agencies, schools, and private practice. Beginning her time at Stetson, she served two consecutive years as a Brown Teacher-Scholar Fellow under the Brown Center for Faculty Innovation and Excellence. For the center, she now serves as the Faculty Fellow for Equity and Inclusion, focusing on diversity training, development, and workplace culture among faculty in order to improve student learning and experiences. Dr. McRae teaches graduate counseling courses in practicum and internship, family and couples counseling, children and adolescents, and diagnosis and treatment planning. Dr. McRae maintains an active research agenda focusing on a multicultural, interdisciplinary approach to understanding the following: counselor identity development and gatekeeping; adult and child survivors of trauma, abuse, and intimate partner violence (IPV); marriages, couples, and families; lesbian, gay, bisexual, transgender, and queer (LGBTQ+) issues in counseling; and human trafficking. In addition, she continues to present locally and nationally on these various topics.[/showhide]
William Sause, PhD
Brown Faculty Fellow for Remote and Digital Learning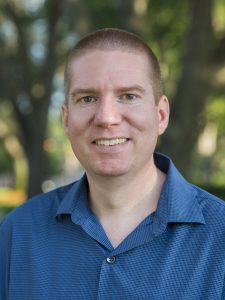 William Sause is an Assistant Professor of Practice in the Department of Business Systems and Analytics at Stetson's School of Business. He holds a Ph.D. in Computer Science from Nova Southeastern University and has over fifteen years of professional experience as a software developer for corporations such as Lockheed Martin and McKesson. At Stetson's School of Business, William teaches courses in programming, databases and big data, management information systems, and spreadsheet modelling. His research interests include virtual environments for e-learning and data visualization, software development, and artificial intelligence. As the Brown Center Fellow for Digital and Remote Learning, William consults with faculty colleagues on the transition to online delivery of classes and promotes faculty development in digital and remote learning.
Christopher Griffin
Program Manager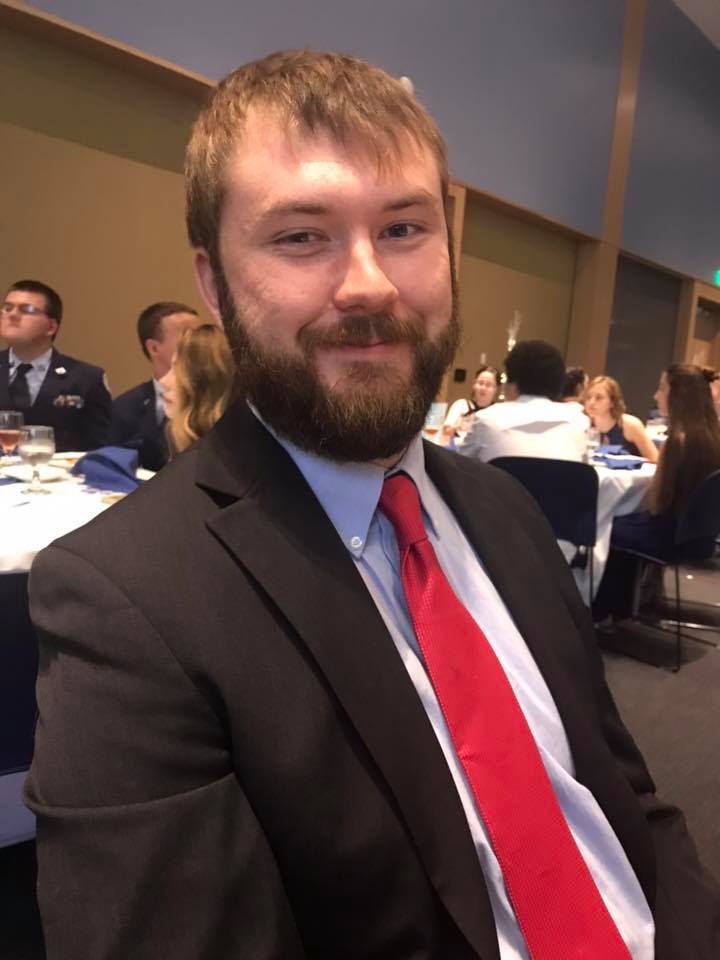 Chris Griffin possesses over 10 years of experience in administrative support through his work at Mainland High School, Stetson University Office of Continuing Education, and the US Army. This experience was built on the positions of core teacher and advisor to student clubs at Mainland High School, Director of Summer Conferences at Stetson University, and senior medic to an infantry company in the US Army. He has also recently graduated from Stetson University with a Master's in Education Leadership.
Chris will be providing administrative support for the diverse programming offered by the Brown Center for Faculty Innovation and Excellence. His primary responsibilities will be managing a number of programs and events including: new faculty orientation, teaching and learning consultations, communities of practice, small grant programs, course design institutes and workshops, and an annual Colloquium on Teaching and Learning.
As a program manager he performs clerical and administrative duties related to operations and enrichment of the Center. He will be providing comprehensive concierge faculty services such as managing the resource room and expanding its inventory, supporting inclusion and equity strategies for faculty development that maximize diversity as a learning asset, creating contracts for speakers/ guests to Stetson University and managing event planning and logistics coordination for external constituencies.
STUDENT EMPLOYEES
Lola Jin
Budget Management Intern – Graduate Assistant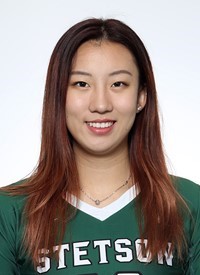 Lola Jin was born and raised in Shijiazhuang, China. She came to the United States on a full scholarship in 2015 to play volleyball for the University of Missouri, before her junior year, she transferred to Stetson University to continue her volleyball career, majoring in economics.
She has an extensive experience in being a leader on her team. Lola made the ASUN Honor Roll in 2017, was named ASUN Preseason Defensive Player of the Year in 2018, and included in the 2018 ASUN Second Team All-Conference.
Prior to working in the Brown center, Lola gained experience in the Finance office as a Student Worker. In her free time, Lola enjoys shopping and traveling.
Elijah L. Goodman
Student Office Coordinator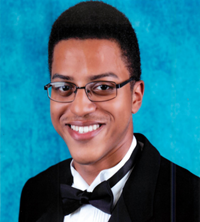 Elijah Goodman is currently a Sophomore majoring in computer science. He is a dedicated student and worker. He made the Dean's List both in the fall and spring semesters. He is currently 2nd chair euphonium in the Stetson University Concert Band.
As Student Office Coordinator, he oversees other student workers. He is also the bridge between the other student workers and the managers and directors. In his free time, Elijah enjoys playing his guitar and piano.