The Brown Center invites you to our Faculty Spotlight on Thursday, October 24th at 4:00 PM in the Carlton Union Building's Stetson Room. The spotlights series is a bimonthly showcase of research, creative inquiry, and other scholarly engagement of the campus community. Stop by and learn about the research of our talented Stetson community!
Details about the time and place can be found on Stetson's Event Calendar
We have changed the format this year and will be having two sessions for thirty minutes each.
The two professors participating in our third spotlight are:
Dr. Rachel Cor

e

– Assistant Professor of Sociology
Institutional Change and Tuberculosis Control in Shanghai
In a world where population growth, migration, travel and trade allow for greater interconnectedness and opportunities for disease transmission, Asian cities are crucially important to global health. This presentation will highlight the importance of medical and public health systems for controlling China's most widespread and deadly infectious disease, tuberculosis (TB). The presentation will provide a brief overview to a comparative-historical book manuscript on a century of TB control in Shanghai, and it will introduce interesting findings from my research in the Shanghai Municipal Archives this summer.
Rachel Core is a medical sociologist with research and teaching interests in health inequalities, particularly in Asia. She speaks, reads and writes Mandarin and has spent seven years in China, including 18 months conducting research for her dissertation, "The Fall and Rise of Tuberculosis: How institutional change affected health outcomes in Shanghai, 1927-2013," which was supported by a Fulbright Fellowship. She is currently working on a book manuscript based on her dissertation. Before coming to Stetson, Core held a post-doctoral fellowship in medical humanities at the Nanyang Technological University in Singapore. In addition to Sociology and Anthropology programs, Dr. Core's scholarship and teaching contribute to the Asian Studies and Public Health programs at Stetson University. Dr. Core aims to take students to Asia as often as possible, including to Shanghai over Spring Break 2020.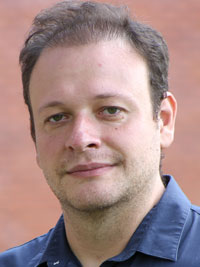 Dr. Petros Xanthopoulos – Assistant Professor of Decision and Information Sciences
Consensus of Algorithms: Towards More Robust Unsupervised Learning Methods
Clustering or unsupervised learning consists of all methods that try to group data into smaller subsets with similar characteristics. This problem is very important in various areas such as business, engineering, social media analytics and bioinformatics. In this presentation we will demonstrate a methodology for building more robust such algorithms through consensus learning.

Dr. Xanthopoulos received his Ph.D. and MSc from Industrial and Systems Engineering Department at the University of Florida and a Diploma of Engineering from the Technical University of Crete, Greece. His teaching and scholar interests include the areas of big data analytics, data mining, optimization and operations management. He has served as assistant professor and Lockheed Martin faculty fellow at the University of Central Florida.
Dr. Xanthopoulos's research has appeared in journals like Omega, Annals of Operations Research, Expert Systems with applications and IEEE Transaction of Information Technology in Biomedicine. His research has been funded by the Florida Department of Transportation and the Office of Naval Research. He is associate editor of Optimization Letter (Springer) and he has served as a reviewer for more than 30 peer-reviewed publications and conferences. He is a member of INFORMS and IEEE.