Innovative Approaches to Tackling Complex Challenges
April 7-8, 2017
Stetson University, Deland, FL
Rinker Auditorium – Lynn Business Center (LBC)
(corner of N. Woodland Blvd and Michigan Ave [MapIt])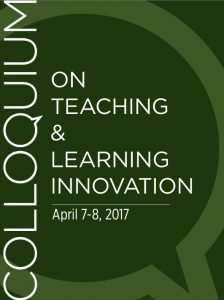 Download Program
Universities and colleges are rich in human and intellectual capital. Yet, all too often, these resources stay bound in the academy and are not accessible to our communities. How do we create learning environments in which students, staff, faculty, and others collaborate to tackle complex societal challenges?

There's something for everyone at the annual Colloquium on Teaching and Learning Innovation, hosted by Stetson University. The 2017 Colloquium offers two tracks for participants to engage:
April 7: presenters or participant
April 7-8: two-day embedded Project-Based Learning track
Join colleagues from across the nation for a celebration of learning excellence. Share teaching and learning innovations, gains you have made in any area of learning, present new ideas, and more.
KEYNOTE ADDRESS
Project-based learning is an effective strategy for engaging students in authentic learning experiences that can develop a wide range of transferable skills and abilities.  Using Worcester Polytechnic Institute's curriculum as a case study, I will describe how project-based learning can be used in and out of the major and across all four years of an undergraduate curriculum.   We will explore examples of projects on campus, in the local community, and around the globe.  I will present results from a study looking at the long-term impacts of project work on alumni, and will share some lessons learned from four decades of project-based education at WPI.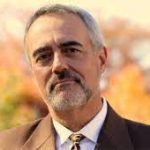 Dr. Richard F. Vaz serves as the inaugural Director of Worcester Polytechnic Institute's (WPI) Center for Project-Based Learning. The Center provides support to colleges and universities looking to implement or enhance project-based learning. In his prior role as dean of interdisciplinary and global studies, he had oversight of WPI's interdisciplinary degree requirement, the Interactive Qualifying Project.
Dr. Vaz received his B.S., M.S., and Ph.D. in electrical engineering from WPI, and has been a member of the WPI Electrical and Computer Engineering faculty since 1984. He has also held systems and design engineering positions with Raytheon, GenRad, and the MITRE Corporation.
Travel and Accommodations
Stetson University's DeLand campus is located approximately half-way between Daytona Beach and Orlando, just off of I-4 in the Sunshine State of Florida.
Details
Information
Questions? Contact browncenter@stetson.edu or (386) 822-7931.
Past Events
2017 Colloquium
2016 Colloquium
2015 Colloquium