On Wednesday, April 4 the Spotlight series will conclude with Carol Azab, Assistant Professor of Marketing who will present her research on Do customers' accents impact service employee recovery behavior?
Date: Wednesday, April 4, 2018
Time: 12 pm – 1 pm (lunch provided at 11:30 am)
Location: Lynn Business Center Boardroom (LBC 213)
---
Do customers' accents impact service employee recovery behavior?
Service failures occur when service providers fail to meet customers' expectations. Service failures can range from receiving a wrong order in a restaurant to losing luggage at the airport. Service recoveries refer to the actions a service provider chooses to take as a remedy to service failures. The study aims to explore whether customers' accents affect the type of service remedy a service provider offers. The study uses a 2×2 between subject design and provides some interesting insights.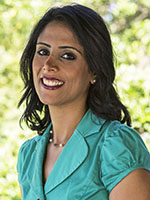 Dr. Carol Azab, assistant professor of marketing, earned her Ph.D. in marketing from Southern Illinois University. She received her bachelor's and master's degrees in business administration from the Faculty of Commerce of Alexandria University in Egypt. Her area of research focuses on service recovery and international marketing. She won the Sharon Beatty Best Services Dissertation award.
Dr. Azab loves working with students and comes with extensive teaching experience. She taught as an Assistant Professor at the University of Wisconsin Eau Claire and an instructor of record at Southern Illinois University. She also taught as visiting Lecturer at the School of Management and Economics, Vaxjio University, Sweden and assistant lecturer at Alexandria University Egypt. Dr. Azab also did consultancy work in Egypt and was part of research project team for World Bank and United Nations Development Program. Dr. Azab went to the German School in Alexandria and can speak German, English, French and Arabic fluently.
---
The Spotlight Series at Stetson University is a showcase of faculty research, creative inquiry, and other scholarly engagement to the campus community.  Presenters are primarily recipients of grant awards through the Stetson Summer Grant Program.  The Spotlight series will reconvene in the Fall of 2018.