The Brown Center invites you to our Faculty Spotlight on Thursday, November 21st at 4:00 PM in the Carlton Union Building's Stetson Room. The spotlights series is a bimonthly showcase of research, creative inquiry, and other scholarly engagement of the campus community. Stop by and learn about the research of our talented Stetson community!
Details about the time and place can be found on Stetson's Event Calendar
We have changed the format this year and will be having two sessions for thirty minutes each.
The two professors participating in our fourth spotlight are: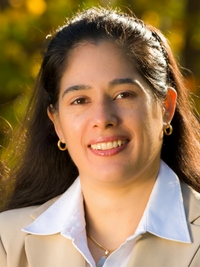 Dr. Isabel Botero-

Assistant Professor of Family Enterprise and Entrepreneurship
The Family Business Brand Effect: When non-family firms use family language as part of their brand
Family business brands encompass formal and informal communication of the family elements of firm essence (i.e., the family's involvement in a firm) and which lead to associations and expectations in the mind of stakeholders that help differentiate these firms from others in the marketplace. Family business brands help leverage a unique value proposition in the marketplace, which often translates into family firms being perceived as more trustworthy than non-family firms. Giving the importance that customer perceptions are in today's marketplace, some organizations try to use family language as part of their brands to try to generate positive perceptions in consumer's minds. This project explored whether using family language generated positive perceptions in the mind of consumers independent of whether the firm was family owned or not.
Isabel C. Botero, Ph.D., is an educator, researcher and consultant in the areas of management and family enterprise. She obtained her Ph.D. from Michigan State University. Her areas of specialty include strategic communication processes, communication in and about family enterprises, influence processes in organizations and next-generation issues in family enterprises. Isabel has presented numerous papers in National and international Conferences (i.e., Academy of Management, Family Enterprise Research Academy, International Family Enterprise Research Academy). She has over 40 publications in international journals and books. Some of her publications have appeared in Family Business Review, Journal of Family Business Strategy, Journal of Family Business Management, Journal of Management Studies, and Management Communication Quarterly. She is a Fellow for the Family Firm Institute and board member for the International Family Enterprise Research Academy (IFERA Inc.).

Dr. Paul Sibbald

– Associate Professor of Chemistry
Using Computational Methods to Study Complex Chemical Processes
The growth of state-of-the-art computational technologies has given researchers the tools for efficient elucidation of mechanisms and factors that control the reactivity and selectivity in complex synthetic organic reactions. This project uses computational techniques to study the mechanism of two newly developed reactions from collaborators at Portland State University and Dartmouth College. The mechanistic understanding gained in these two studies resulted in robust models that both explained the observed selectivity and were used to predict pathways of future reactivity.
Paul A. Sibbald, Ph.D., earned his B.S. in chemistry and B.A. in history from Alma College in Alma, MI. He earned his Ph.D. in Chemistry under the guidance of Dr. Forrest Michael at the University of Washington with a focus on organometallic chemistry, reaction development, and mechanistic study. After a postdoc at the University of Minnesota's Center for Drug Design, Paul began his independent career at Stetson University in 2012. At Stetson, Paul found the perfect match between his passions for science education and chemistry research. His research interests include new reaction development, mechanistic study using both computational and traditional methods, and chemical pedagogy. In his spare time, Paul loves to spend time with his family, play darts, bowl, and cook.