The Brown Center invites you to our Faculty Spotlight on Friday, October 7th at 12:00 PM on Zoom. The spotlight series showcases research, creative inquiry, and other scholarly engagement of the campus community. Stop by and learn about the research of our talented Stetson community!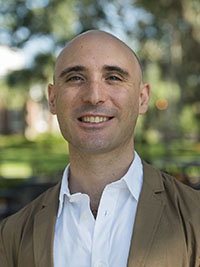 Dr. Yohann Ripert – Assistant Professor of French
Department of World Languages and Cultures
Sustaining Independence U.S. Foreign Policy and Double-Edged Non-Interventionism
The paper investigates the ideological and political foundations that led Lyndon B. Johnson to build the first United States foreign policy towards Africa. Where Johnson is often acknowledged for his pivotal role in the Civil Rights movement, his compelling record on Africa remains shrouded in the legacy of Kennedy's contentious "Courting of African Nationalist Leaders." Given Johnson's avowed lack of experience or even interest in matters of foreign policy, how did he imagine a continent which he had visited but once? This paper returns to a moment in the history of Johnson's presidency, between 1964 and 1966 when the steps towards what would eventually become the first United States foreign policy towards Africa were made: the reorientation of the African Bureau at the State Department, the political backing of the Korry Report, and the administration's unwavering support for the American participation at the monumental 1966 First Festival of Negro Arts, held in Dakar.
Currently, the Director of the Honors Program, Dr. Ripert, is a scholar of Postcolonial Theory and Francophone West Africa. His research focuses on diplomatic and transatlantic intellectual history and questions the role of our imagination in the conception and human and state relations.