The Brown Center invites you to our Faculty Spotlight on Monday, November 28th at 12:00 PM on Zoom. The spotlight series is a showcase of research, creative inquiry, and other scholarly engagement of the campus community. Stop by and learn about the research of our talented Stetson community!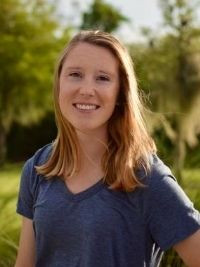 Dr. Kristine Dye – Assistant Professor of Health Sciences and Biology
Department of Health Sciences and Biology
Elucidating mechanisms of transformation by Merkel cell polyomavirus tumor antigens in the development of Merkel Cell Carcinoma
In 2008, Merkel cell polyomavirus (MCPyV) was found to be the etiologic agent of 80% of Merkel cell carcinomas (MCC) through expression of two viral oncoproteins: the Small Tumor antigen (ST) and a truncated form of the Large Tumor antigen (LT-t). Being only recently discovered, the mechanism by which MCPyV leads to the development of MCC is not fully understood. Consistent with the viability of MCC tumors being dependent on the expression of MCPyV LT-t and ST, we found MCPyV ST to be independently capable of transforming primary human fibroblasts and is thus the dominant transforming protein of MCPyV. Furthermore, in various transformation assays we have discovered MCPyV ST to be uniquely transforming among human polyomaviruses, as Human Polyomavirus 7 and Trichodysplasia Spinulosa (HPyV7 and TSPyV, respectively) ST proteins were non-transforming. In an effort to identify the mechanism of MCPyV ST mediated transformation, we found that MCPyV ST exhibits strong nuclear localization in subcellular fractionations. This discovery is exclusive to MCPyV, as we have found the ST protein of TSPyV to localize within the cytoplasm. With MCPyV ST having confirmed nuclear localization, despite the absence of a canonical nuclear localization signal, interrogation of the mechanism and significance of MCPyV ST nuclear translocation and its role in tumorigenesis is imperative. Studies aimed to identify the mechanism and relevance of MCPyV ST nuclear translocation may prove influential in understanding MCPyV ST mediated tumorigenesis. Additionally, such finds may consequently contribute to uncovering novel MCC therapeutic approaches targeting MCPyV ST, as well as broaden our understanding of the basic biology regarding nuclear protein localization and cellular transformation.
Dr. Kristine Dye received her B.S. in Biology with a minor in Microbiology from BYUI. Dr. Dye then received a PhD in Pathobiology for the University of Washington where she studied oncogenic viruses. Dr. Dye is an Assistant Professor in both the Health Sciences and Biology departments where she teaches classes such as Virology of Spillover and Immunology and Vaccinology, and continues research on oncogenic viruses, SARS-CoV-2, and Polio with research students.