The Brown Center invites you to our first Faculty Spotlight of the spring semester on Thursday, February 13th at 1:00 PM in the Carlton Union Building's Lee Garage. The spotlights series is a showcase of research, creative inquiry, and other scholarly engagement of the campus community. Stop by and learn about the research of our talented Stetson community!
Details about the time and place can be found on Stetson's Event Calendar
We have changed the format this year and will be having two sessions for thirty minutes each.
The two professors participating in this spotlight are: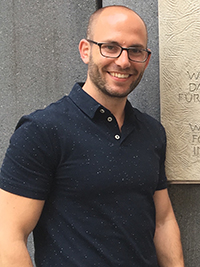 Visual and Lexical Processing in the Parafovea
Readers process information most efficiently in central vision (fovea centralis) where densely packed cone cells allow for high acuity visual processing.  However, outside of the fovea centralis (parafovea), vision is less clear.  Competing theories of word (lexical) processing during reading disagree about how much lexical information can be extracted from parafoveal vision.  This experiment investigated whether spelling (orthographic) and meaning (semantic) information could be extracted from parafoveal vision.  Results indicate that readers of all skill levels are able to extract both orthographic and semantic information from the parafovea.  Results are most consistent with a serial processing account of lexical processing.
Dr. Michael Eskenazi is the department's specialist in cognitive psychology, which focuses on the mental processes of attention, language, memory, and perception. His specific area of research is in the process by which we identify and learn words during reading. He uses eye-tracking methodology to study readers' eye movement behavior down to the millisecond, which is a reflection of their language processes. This research is conducted in the Reading Eye-Tracking and Individual Differences Lab (REAiD Lab).
Dr. Eskenazi regularly works with undergraduate students both in and out of the classroom. In his classes, students learn about cognitive processes, conduct and design experiments, and analyze data. He also mentors students each semester in his lab as they assist with his research and design their own studies. Students interested in working with Dr. Eskenazi should email or meet with him to discuss working in the REAiD Lab.
---

Examining the anticancer properties of yaupon holly
In this spotlight presentation, Dr. Crowder will highlight her research examining the anticancer properties of yaupon holly. Yaupon holly is a shrub native to the southeastern portion of the United States. Anticancer properties of yaupon holly are largely unexplored. Alcohol extracts were prepared from both yaupon holly new and old leaves. Human leukemia Jurkat cells were treated with new and old leaf extracts and assessed for changes in metabolic activity and initiation of cell death. Dr. Crowder will discuss her research findings characterizing cell death revealed in human leukemia cells treated with yaupon holly extracts.
Dr. Roslyn N. Crowder, Associate Professor of Biology and Molecular Biology Program Coordinator, joined the Stetson faculty in 2013. Dr. Crowder earned her B.S. from Florida A&M University and her Ph.D. from the University of Alabama at Birmingham. Before coming to Stetson, she was a PENN-PORT teaching postdoctoral fellow at the University of Pennsylvania and research postdoctoral fellow at Penn State Cancer Institute.
Dr. Crowder is a molecular cancer biologist. Her research examines cell death pathways and regulation of cell death in human normal and cancer cells. Dr. Crowder and colleagues (Dr. Lynn Kee, Dr. Heather Evans-Anderson and Dr. Holley Lynch) were recently awarded a NSF grant to acquire an inverted fluorescent microscope. Dr. Crowder is currently using the newly acquired microscope to investigate abnormal protein localization of a cell death protein needed to activate programmed cell death in cancer cells.
Her undergraduate research program at Stetson investigates anticancer properties of plants. Her students have previously studied the cytotoxicity of human leukemia cells treated with extracts prepared from shell ginger Alpinia zerumbet and yaupon holly (Ilex vomitoria).