The Brown Center invites you to our Faculty Spotlight on Friday, February 12th at 11:00 AM on Blackboard Ultra. The spotlight series is a showcase of research, creative inquiry, and other scholarly engagement of the campus community. Stop by and learn about the research of our talented Stetson community!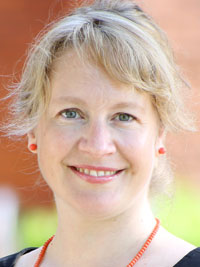 Dr. Mayhill Fowler- Associate Professor; Director of SPREES, Stetson's Program in Russian, East European and Eurasian Studies
Department of History
Sashka in Kabul?: Women, war and (un)true war stories at the Theater of the Carpathian Military District in Lviv
Telling war stories was central to the mission of the Theater of the Carpathian Military District, or Theater of the Soviet Army, or simply Teatr PrykVO, which was the only Russian-language theater in Soviet Lviv from 1954-1991 and one of the seven official military theaters in the Soviet Union. Artists in the theater and officials at all levels fought over how to tell war stories—and who could do the telling. This talk examines theater's ability and inability to tell a true war story, focusing on the successful production of the World War II drama Sashka in 1983, the unsuccessful search for a play about the war in Afghanistan, and the absence of plays about women's experiences in war. Today Teatr PrykVO is Teatr Lesi, a fresh voice in Ukraine's theatrical landscape. My talk ends by connecting the ways women were (not) represented in Soviet theater with the ways they are represented in theater today, at Teatr Lesi and beyond, in particular in stories about the war in Ukraine's east. This talk is part of a larger book project called War Stories: Theater on the Frontlines of Socialism, which was the focus of Dr. Fowler's sabbatical research in 2019-2020, cut short due to covid. The pre-circulated paper will be presented in experimental format: instead of a seamless narrative, Dr. Fowler is hoping to have an intellectually intense conversation with her colleagues across disciplines to help develop her ideas. The great poet Anna Akhmatova once said, "If you only knew in what kind of trash / Poems shamelessly grow." Perfection, after all, is not only overrated, but also less interesting.
Mayhill C. Fowler, PhD, is Associate Professor in the Department of History and is director of SPREES, Stetson's Program in Russian, East European and Eurasian Studies. She came to Stetson in 2013 to teach Russian and East European history and culture. She holds a PhD in History from Princeton University, a BA in Slavic Languages and Literatures from Yale University, and an MFA in Acting from the National Theater Conservatory. She has published widely on culture in Ukraine. Her first book, Beau Monde on Empire's Edge: State and Stage in Soviet Ukraine (Toronto, 2017), explains the making of culture both Soviet and Ukrainian through a collective biography of artists and officials in the 1920s and 1930s. She is now completing two projects: War Stories: Theater on the Frontlines of Socialism and Comrade Actress: Soviet Ukrainian Women on the Stage and Behind the Scenes. She was a postdoctoral fellow at the Harvard Ukrainian Research Institute (2012) and the Petro Jacyk Postdoctoral Fellow at University of Toronto (2012-2013). She won the John Hague Award for Distinguished Teaching in the Liberal Arts and Sciences in 2018, teaches in summer workshops in Ukraine every year, and was thrilled to be a Fulbright Research Scholar in Ukraine for the 2019-2020 academic year.