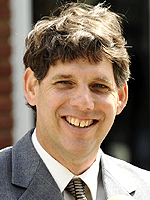 Terence Farrell has served as Brown Faculty Fellow at Stetson University since 2010. In this role, he coordinates the Brown Teacher-Scholar Fellows in Biology program in collaboration with the Brown Center for Faculty Innovation and Excellence. Dr. Farrell helps to recruit, mentor, and prepare Fellows to successfully transition to tenure-track positions at other higher Ed institutions. His leadership has contributed to the expansion of the visiting fellow model to what is currently the Brown Teacher-Scholar Fellows Program at Stetson University.
As endowed chair, Dr. Farrell has boosted other initiatives to advance science education at Stetson. He has been active in the design and renovation of classrooms and faculty-student research spaces in the STEM disciplines. He has also led grant efforts that resulted in over $3 million dollars in funding for Stetson University's science center. A recipient of the Willian Huge McEniry Award and the John Hague Award, Stetson's highest awards for teaching excellence, his teaching offerings include a first-year seminar course, a Biostatistics course in the introductory biology sequence, and upper-division biology courses.
A long-time advocate for undergraduate research, Terry has published research papers with over 20 Stetson undergraduates. His current research conducted in collaboration with Brown Teacher-Scholar Fellow in Ecology, Craig Lind, and approximately ten Stetson students, involves a diversity of investigations on snake ecology. These topics include the impacts of snake fungal disease, the hormonal control of reproductive behaviors, the causes of venom variation, and the foraging behaviors of pigmy rattlesnakes.
Terence Farrell is a professor of biology at Stetson University. He earned a B.S. in Biology from Bucknell University, a Ph.D. in Zoology from Oregon State University, and was a postdoctoral fellow at Stanford University before arriving at Stetson.
Meet other talented faculty fellows: