WORLD Class is a Comprehensive Campus Internationalization Initiative aimed at elevating Stetson's  core value of Global Citizenship as paramount to student success.  Here, faculty will find WORLD Class resources and ideas to support your work as you deliver on Stetson's promise to graduate global citizens who dare to be significant.
---
Study Abroad
How to Plan & Lead Study Abroad
Marketing Your Faculty-Led Program
Budget Template Faculty-Led Programs
Faculty-Led Approval Process
Taxonomy: Designing High Impact Study Abroad Experiences
Aligning Student Learning Outcomes with Study Abroad
Study Abroad Planning Tool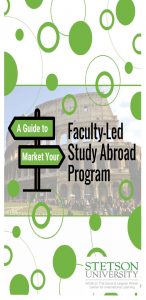 WORLD Class Events
Travel Awards
Lunch  & Learn Series
Global Engagement Hub
Dashboard
Global Citizenship
Programs & Initatives
WORLD Class – Comprehensive Campus Internationalization
Leading Comprehensive Internationalization: Strategies and Tactics for Action
2017 Mapping Internationalization on U.S. Campuses 2017 Edition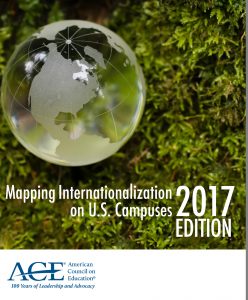 2019 Lunch & Learn Series
Plan Ahead: Easy Ways to Internationalize Your Fall 2019 Courses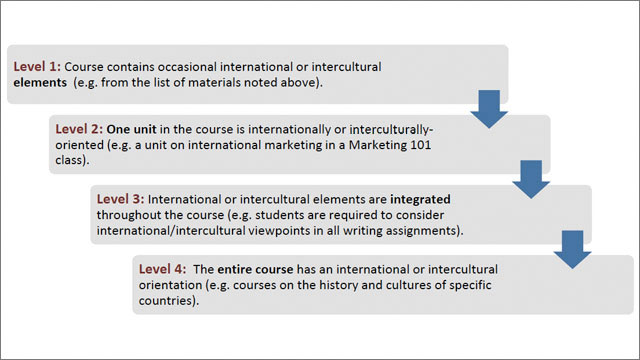 Internationalized courses are the building blocks of an internationalized curriculum. Join faculty and staff experienced in internationalizing coursework to discussessential elements of an internationalized course such as level of activity, student learning outcomes, assessment, course content, and activities. Lunch is provided and limited seating is available.
By the end of this Lunch & Learn, participants will be able to:
Identify 2-3 strategies for internationalizing a course
Locate resources, including syllabi,  for internationalizing courses
Image reprinted from ACE Internationalization in Action