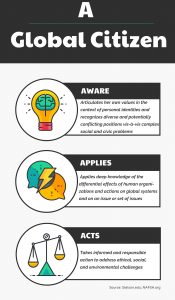 Download Global Citizen poster (pdf)
THE GLOBAL CITIZEN
 Articulates values in the context of personal identities and recognizes diverse and potentially conflicting positions vis-à-vis complex social and civic problems [AWARENESS]
 Gains and applies deep knowledge of the differential effects of human organizations and actions on global systems [UNDERSTANDING]
 Understands the interactions of multiple worldviews, experiences, histories, and power structures on an issue or set of issues [UNDERSTANDING]
 Applies knowledge and skills gained through general education, the maJor, and co-curricular experiences to address complex, contemporary global issues [APPLICATION]
 Initiates meaningful interaction with people from other cultures in the context of a complex problem or opportunity [ACTION]
 Takes informed and responsible action to address ethical, social, and environmental challenges [ACTION]
GLOBAL LEARNING FOSTERS GLOBAL CITIZENSHIP
Global Learning is the process of diverse people analyzing and addressing complex problems that transcend borders (FIU). Global learning is the knowledge of human cultures and the physical and natural world…focused by engagement with big questions; intellectual and practical skills…practiced across the curriculum; personal and social responsibility… anchored through active involvement with diverse communities and real-world challenges; [and] integrative and applied learning…demonstrated in new settings and in the context of complex problems.
GLOBAL CITIZENSHIP FOSTERS INCLUSIVE EXCELLENCE
Global Citizenship demands a shift from engaging with diversity as a social justice issue to meaningful engagement with complex real-world, societal challenges using diverse, innovative approaches – making inclusion the foundation of excellence.