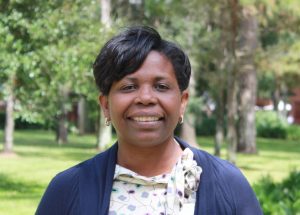 Rosalie A. Richards, Ph.D., Associate Provost for Faculty Development
Rosalie A. Richards is a porphyrin chemist with interests in equity in higher education and Professor of Chemistry and Education at Stetson University. As Associate Provost for Faculty Development, she is responsible for implementing an innovative vision and sound plan for, and provide leadership of faculty development and support.
Prior to joining Stetson in 2014, she served as the first Kaolin-Endowed Chair in Science and Georgia Eminent Scholar at Georgia College & State University, the state's public liberal arts university. Richards was founding director of the award-winning Science Education Center and responsible for collaboratively raising over $10 million in private, state and federal grant support to advance STEM education in the state of Georgia. At Georgia College, she served as professor of chemistry in the Department of Chemistry, Physics & Astronomy. Between 1996-2001, Richards served as the the first NASA-National Science Foundation Model Institutions for Excellence Scholar-Teacher at Spelman College in Atlanta, GA. While a doctoral student, she taught chemistry as an adjunct professor at Santa Monica College in Santa Monica, CA and was a member of the Drew University of Medicine's MCAT Boot Camp staff in Los Angeles, CA.
Dr. Richards is a nationally recognized leader in undergraduate research, faculty development, STEM education, equity and intercultural competence. She has published widely on these areas in higher education and serves frequently as consultant to universities and colleges. She has directed numerous award-winning undergraduate research senior theses and high school student research projects in the chemical sciences. Richards is an institute facilitator for the Council on Undergraduate Research and is currently a consultant for the National Science Foundation-supported CUR Transformations Project. She is also one of 18 expert contributors of the 2018 Oxford University Press: Epigeum's "Research as a Transferable Skill", an international online course focused on the professional competencies acquired by undergraduate researchers and required for success in post-baccalaureate pursuits.
Dr. Rosalie A. Richards holds a B.S. in chemistry with physics from the University of the Virgin Islands, earned a Ph.D. in chemistry from the University of Southern California, and a received a certificate in project management from the Keller Graduate School of Management.
---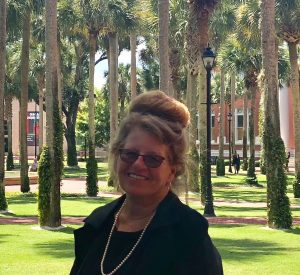 Terri Bassett, Assistant to the Office of Faculty Engagement
Terri Bassett joins Stetson University as part-time administrative support to the Office of Faculty Engagement and associate director of the Adult Degree Completion Program.
Ms. Bassett possesses over 30 years experience in administrative responsibilities at LaGrange College, Georgia Tech, Emory University, and West Georgia Health Systems. She brings diverse administrative experience to Stetson such as coordinator of the Office of Graduate and Adult Degree Completion Programs, finance manager for the Daniel Guggenheim School of Aerospace Engineering, executive assistant to the Office of the Vice President for Advancement, administrative supervisor to the Office of Student Affairs, and more.
Terri provides support for the diverse responsibilities of the Office of Faculty Engagement including processes associated with awards, summer and other mini-grants and sabbatical leave. Terri also serves as IRB coordinator in support human subjects research and manages selective administrative support to non-instructional units reporting to the associate provost for Faculty Development. As assistant director reporting to the director of the Adult Degree Completion Program, she performs clerical and administrative duties related to operations and enrichment including comprehensive concierge student services such as navigating registration, financial aid, student accounts, academic advising, student success services, and applying for graduation.
Terri Bassett holds a bachelor of science degree in organizational leadership from Point University where she graduated with high honors.
---