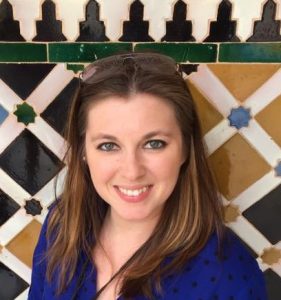 Wendy Viggiano is the Program Coordinator of International Learning at Stetson University. As the program coordinator at WORLD: The David and Leighan Rinker Center for International Learning, Viggiano supports the development, planning, and implementation of faculty-led and study abroad programs, supervises the WORLD Student Ambassadors and works closely with various departments on campus to increase awareness and participation in global learning initiatives including Peace Corps Prep and Stetson's International Faculty Development Seminars. She comes to Stetson University with over a decade of international education experience, most recently as the College Relations Manager with IES Abroad, a non-profit study abroad provider, where she specialized in student recruitment/ program promotion, academic advising, and curriculum integration.
Prior to working for IES Abroad, Viggiano worked for her alma mater, Syracuse University, in the study abroad office. While at SU Abroad, her resarch focused on recruitment initiatives including ambassador programs, pre-departure orientations, returnee workshops, and first-year study abroad programs, program implementation and assessment, and more.  Viggiano's involvement in the first-year study abroad programs tripled program participation, which expanded program offerings from one to three locations abroad.
Wendy Viggiano studied abroad in Florence, Italy and has travelled to many countries through her work in the field. She holds a M.S. in higher postsecondary education and a B.S. in communication and rhetorical studies, both from Syracuse University.
RECENT PUBLICATIONS, PRESENTATIONS & PROFESSIONAL DEVELOPMENT OFFERINGS
NAFSA Region VII Local Arrangements Co-Chair, November 2018 – November 2019
Engaging Faculty through International Faculty Development Programming., Viggiano, W., Priebe, K., NAFSA Region VII Conference, Orlando, FL, November 2019
Retaining International Students through Student Programming and Events., Viggiano, W., Bingham, C., Gaborov Jones, E., NAFSA Region VII Conference, Orlando, FL, November 2019
International Faculty Development Seminar., Viggiano, W., Hentz, P., Lewis, R., Stetson University IFDS, Santo Domingo, DR, May 2019
Stetson University Values Day, Experiential Learning Committee Chair, 2018 and 2019
Developing Global Citizens through Place-Based Education., Viggiano, W., Lewis, R., AACU Global Engagement and Spaces of Practice Conference, Seattle, WA, October 2018
State Department Resources for Education Abroad Programs and Participants. Viggiano, W., Wilkens, E., Finch, J. NAFSA Region X Conference, Princeton, NJ, November 2017
Pre Conference Workshop: Collaborative Approaches to Developing Faculty-Led Programs. Wilwohl, C., Lynch, G., Viggiano, W. NAFSA Region X Conference, Lake Placid, NY, October 2016
Federal Government Resources for Health and Safety Abroad., Viggiano, W., Loughrey, D., NAFSA Region X Conference, Lake Placid, NY, October 2016
NAFSA Region X Conference Planner, January 2012- January 2014
Syracuse University Judicial Procedural Advisor, 2010-2012
For a Growing Number of Freshman, Packing for College Requires a Passport., Wilhelm, I. Chronicle of Higher Education, quoted, September 2012
Utilizing Study Abroad Alumni in Recruitment Initiatives., Viggiano, W., NAFSA Region X, Upstate Regional Conference, June 2012
Expanding Horizons: Education Abroad with First Year Students., Viggiano, W., Calvert-Kubrom, Sara, Forum on Education Abroad Annual Conference, Denver, CO., March 2012
Related Links