The Brown Center invites you to our Faculty Spotlight on Monday, November 7th at 12:00 PM on Zoom. The spotlight series is a showcase of research, creative inquiry, and other scholarly engagement of the campus community. Stop by and learn about the research of our talented Stetson community!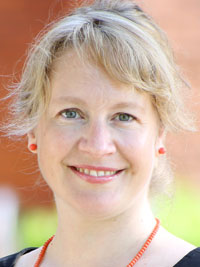 Dr. Mayhill Fowler – Associate Professor of History
Department of History
The Trauma of Untold Stories: Researching World War II-era Ukrainian actresses during Russia's War in Ukraine Today
How do you research war in wartime? How do you write about a war from long ago when all your thoughts are on the war taking place now? How does the present shift your perception of the past? This talk engages these questions in a presentation about my research on Ukrainian theater artists during and after World War II for a book I am trying to write, during Russia's war in Ukraine right now. Trauma, archival silences, and the embodied experience of the researcher have all shaped the shifting trajectory of research. In the end, this talk is about absence, the absence of stories, the absence of sources, and the absence of ethical signposts in how to be a researcher of war during wartime.
Dr. Mayhill C. Fowler (Ph.D., Princeton) is an associate professor in the Department of History at Stetson University and a member of SPREES. She has published widely on culture in Ukraine, including her book Beau Monde on Empire's Edge: State and Stage in Soviet Ukraine (Toronto, 2017). Her next book project, Comrade Actress: Soviet Ukrainian Women on the Stage and Behind the Scenes, re-thinks theater in Ukraine over the long 20th century through a focus on its women. She has held fellowships at the Harvard Ukrainian Research Institute, the University of Toronto, and was a Fulbright scholar to Ukraine 2019-2020. She is an affiliated researcher with the Center for Urban History in Lviv, affiliated faculty in the Program in Theater Studies at Ivan Franko National University, and a full member of the Shevchenko Scientific Society NYC. She also holds a master's degree in Acting (MFA) from the National Theater Conservatory (2000) and a BA in Slavic Languages from Yale University (1996).