Two Stetson University School of Business Administration professors have been recognized by two separate international organizations for outstanding achievements.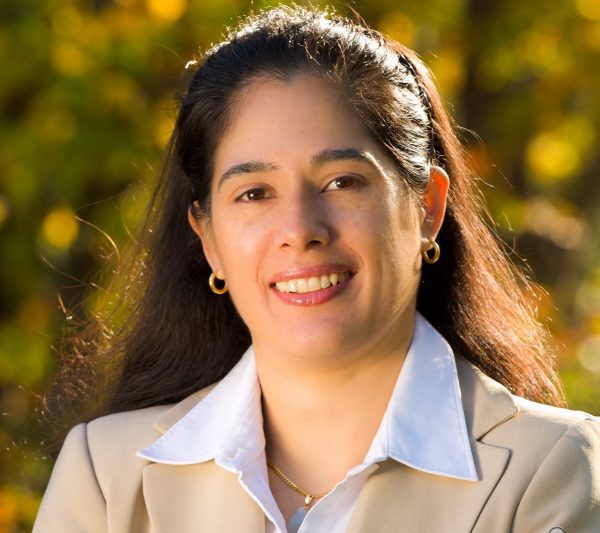 Isabel Botero
Isabel Botero, Ph.D., assistant professor of family enterprise and entrepreneurship, was awarded the Advanced Certificate in Family Wealth Advising (ACFWA) and honored as a Fellow of the Family Firm Institute (FFI) at the 2018 FFI Global Conference held in London, England.
To be named a fellow honoree, Botero had to achieve comprehensive professional knowledge and significant expertise over the past 10 years that may now be shared and used by family business owners and family wealth management clients. The Family Firm Institute, an international professional membership organization of more than 1,800 individuals and organizations across 88 countries, provides interdisciplinary education and networking opportunities for family business and family wealth advisors, consultants, educators and researchers.
"Becoming a Fellow for the Family Firm Institute is an honor for me because it highlights my collaborative work to help family enterprises around the world become better," explained Botero. "It also acknowledges the importance of education and research in the field."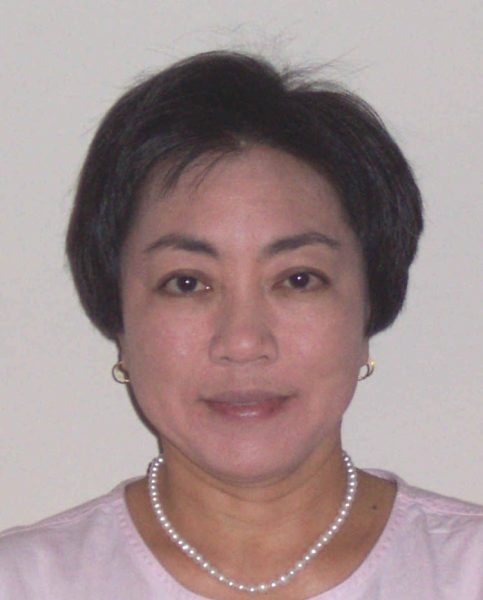 Jennifer Foo
Jennifer Foo, Ph.D., professor of finance, also has been honored as a member of the Jewish National Fund's Winter 2018-2019 Faculty Fellowship Program in Israel. This competitive academic fellowship gives full-time higher education faculty members the opportunity to participate in a 12-day all-expenses-paid academic trip to Israel. The program strives to link scholars from diverse disciplines with their Israeli counterparts at major universities to initiate collaboration and exchanges, and to give participants an opportunity to explore Israel's history, politics, culture and economy. Foo is the first Stetson University faculty member to receive this fellowship.
"This fellowship is an invaluable and exciting opportunity for me to learn about Israel," said Foo. "I look forward to learning how an entrepreneurial and innovative business spirit can be born out of a necessity to grow and survive, as it did in Israel."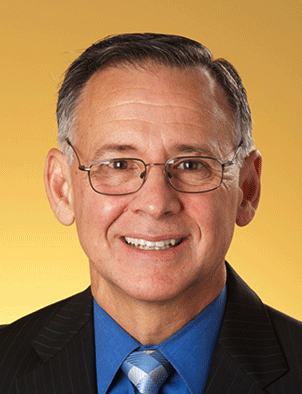 Neal Mero
"This recognition of Dr. Botero and Dr. Foo highlights the quality of faculty who serve in the Stetson School of Business Administration," said Neal P. Mero, Ph.D., dean and professor of management. "In addition to bringing global recognition to Stetson for their work, my colleagues leverage that expertise through their service as incredible teachers and scholars delivering a world-class education to our students."
Originally posted at Stetson Today on December 9, 2018 by Marie Dinklage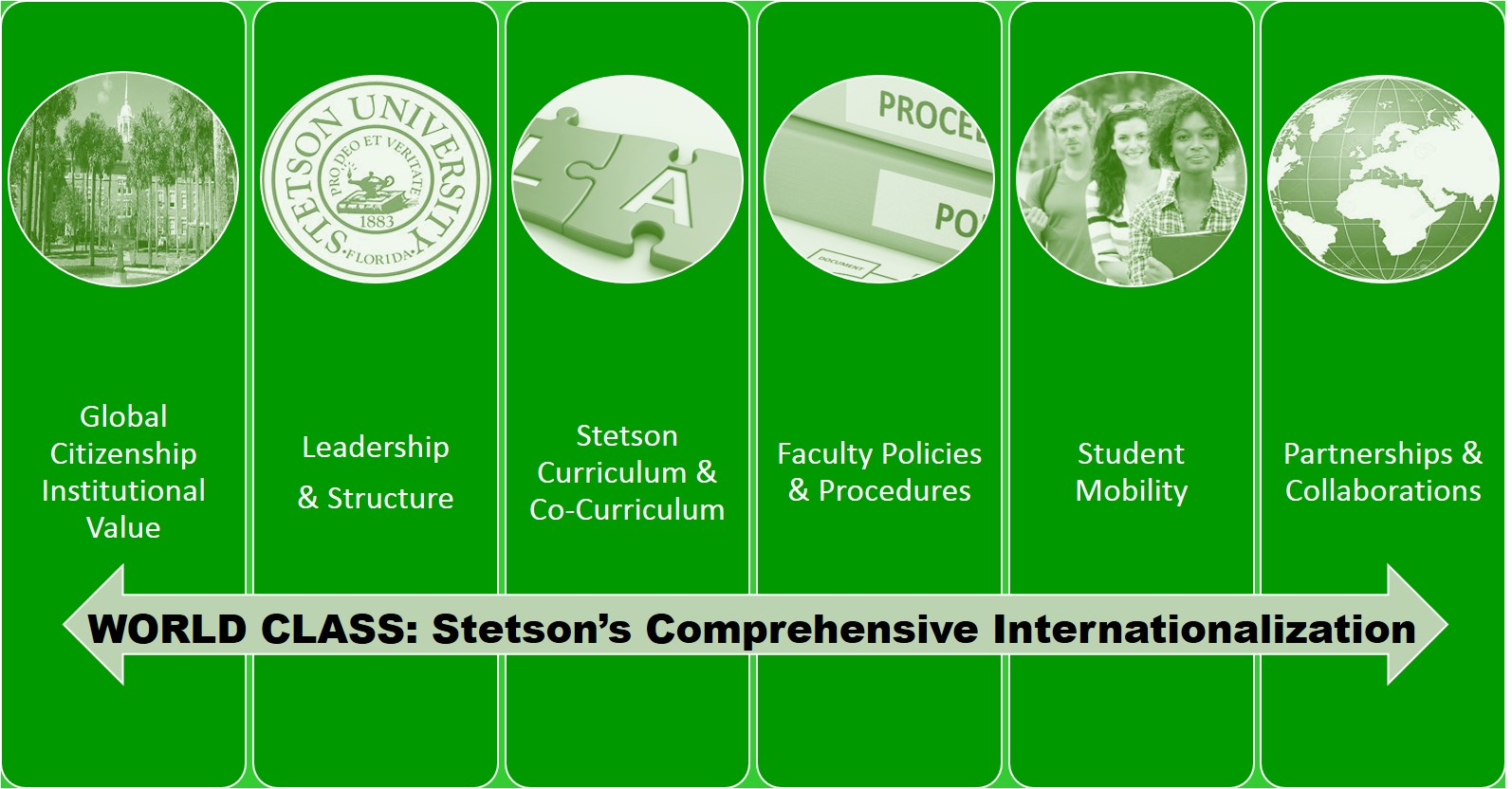 During academic year 2014-15, WORLD re-envisioned its priorities and restructured its resources to align with Stetson's institutional goal to "make intercultural learning vital to the Stetson Experience". To that end, the Center launched WORLD Class, a comprehensive campus internationalization initiative aimed at elevating Stetson's core value of Global Citizenship as paramount to student success. This 2018 Impact Report highlights progress of the WORLD Class initiative since academic year 2014-15.
---
GLOBAL CITIZENSHIP INSTITUTIONAL VALUE
Stetson University aspires to establish itself as a global citizen, known for innovative and inclusive approaches to address and tackle complex global challenges and expand its identity beyond place. As one of three core institutional values, the University prepares students to be informed, active, and engaged citizens of both local communities and the world. Stetson's foundational goal is to become a diverse community of inclusive excellence, a commitment to global community engagement, diversity and inclusion, environmental responsibility, and social justice.
To contribute to raising the institution's global citizenship profile, WORLD launched the inaugural Global Citizenship Symposium in April 2018 aimed at bringing the Stetson community and broader communities together to grapple with and implement viable collaborative actions to global issues of local and regional significance. Events included interdisciplinary panels, workshops, exhibits, film screenings, and other interactive activities.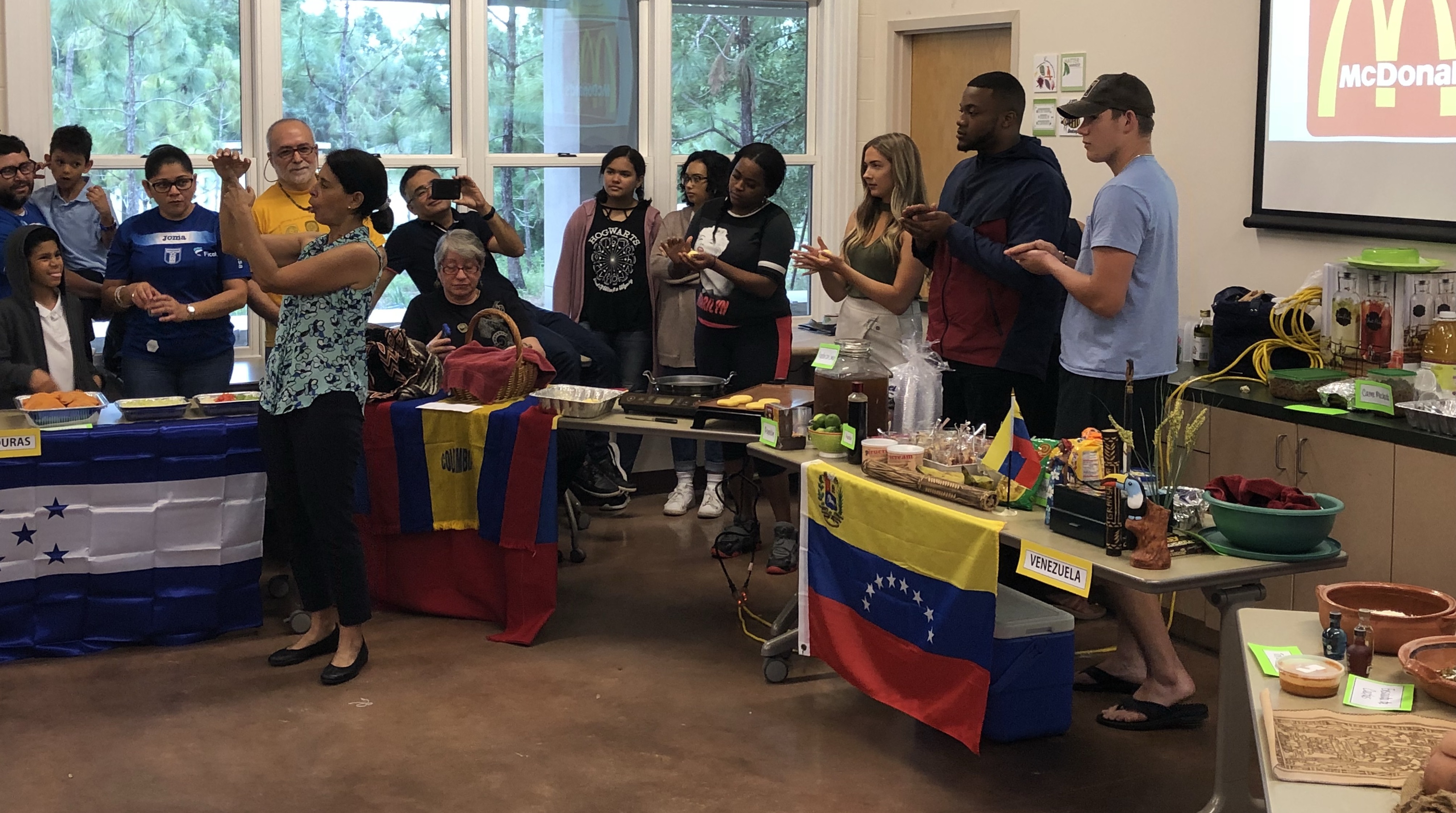 Since 2015, WORLD Fair has engaged over 150 elementary school students per year to learn about other countries and motivate them to study abroad or travel overseas as young adults.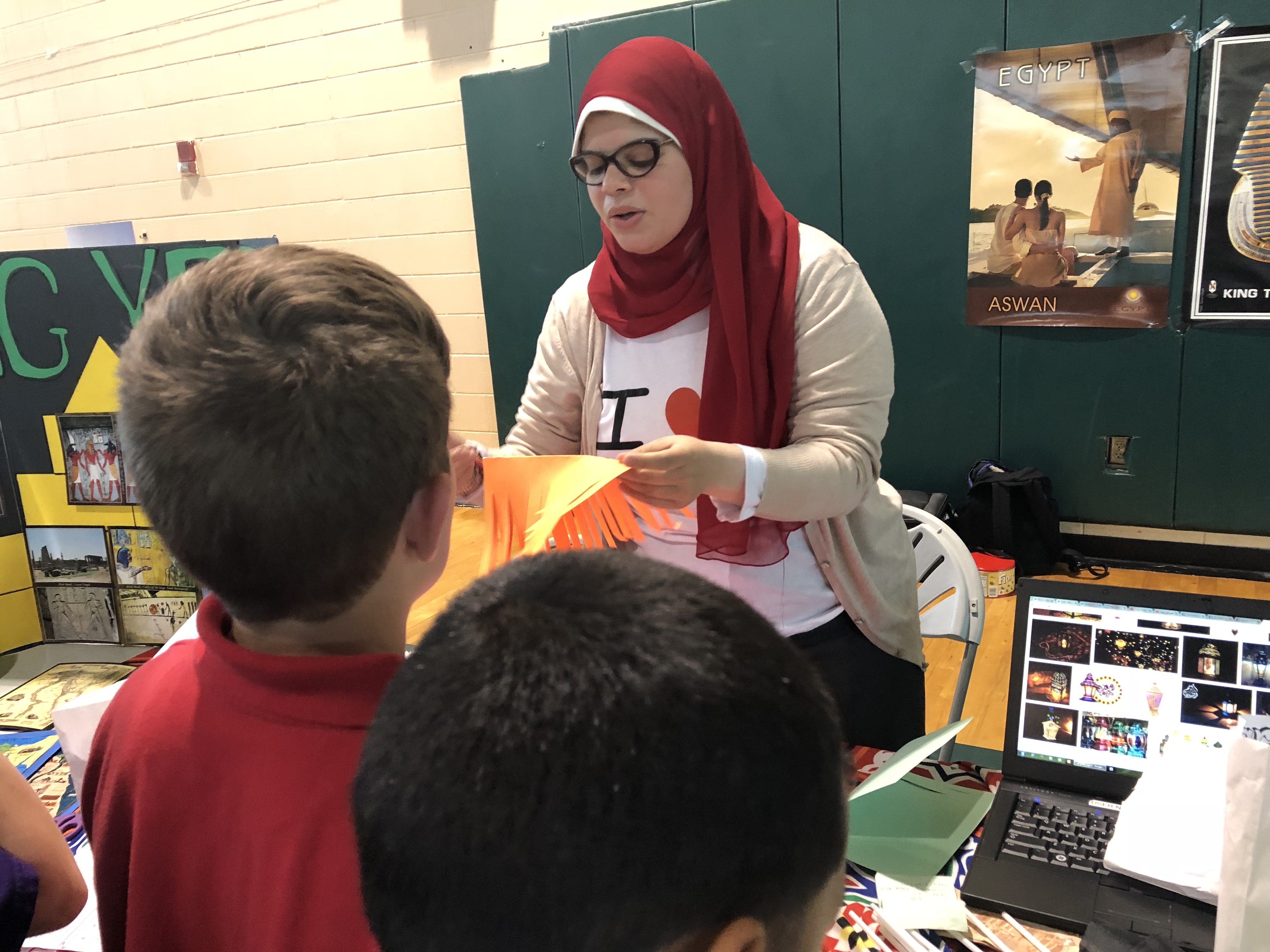 ---
LEADERSHIP & STRUCTURE
WORLD Organizational Chart
Paula Hentz has provided administrative leadership of WORLD: The David and Leighan Rinker Center for International Learning and campus internationalization initiatives since 2015. As senior international officer for Stetson's DeLand campus, Hentz is principal advisor to Stetson's executive leaders on comprehensive campus internationalization. Roxanne Lewis' role as International Student and Scholar Services Coordinator ensures students' federal regulations compliance as well as cultural services and programs to enrich international student and scholars' cultural and social adjustment. In January 2018, WORLD hired Wendy Viggiano to serve as Program Coordinator of International Learning. Viggiano supports the development, planning, and implementation of faculty led and study abroad programs, supervises the WORLD Student Ambassadors and works closely with various departments on campus to increase awareness and participation in global learning initiatives including Peace Corps Prep program.
After a two-year hiatus, the International Learning Council has been re-envisioned to focus on the direction of international learning at Stetson. The director of international learning, who provides oversight of WORLD, serves as an ad hoc council member.
Thanks to the generosity of several donors, including the Rinker Foundation, Stetson University received new funds to endow student and faculty engagement in international learning, including study abroad. Some resources were earmarked for student scholarship.s for international learning.
The new Global Community Engagement Dashboard was designed to enhance Stetson University's comprehensive internationalization efforts and position the University for pportunity planning around international and intercultural learning.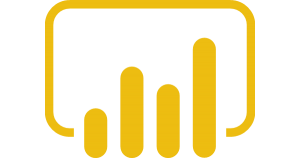 ---
CURRICULUM & CO-CURRICULUM
Internationalizing curriculum and co-curriculum at Stetson is ensure that all students are exposed to international perspectives and build global competence.
General education requirements: WORLD supports foreign language courses through its international language scholars' program and exchange students from countries such as Kyrgyzstan. Since 2014, nine (9) Fulbright and ALLEX fellows have facilitated Arabic, Portuguese, and Mandarin Chinese courses. At least four (4) international exchange students have supported language acquisition skills in Stetson's foreign language lab.
Student learning outcomes: After a two-year hiatus, the International Learning Council has been re-envisioned to focus on the direction of international learning at Stetson. The director of international learning, who provides oversight of WORLD, serves as an ad hoc committee member. The Committee will develop clear learning outcomes to help students develop and articulate skills and dispositions addressed in courses, programs, activities, and co-curricula experiences. The committee investigate programs and activities address global issues.
Internationalized courses in the disciplines: WORLD has worked to develop new study abroad courses which complement and enhance the curriculum. In 2017-2018, WORLD helped to facilitate 12 faculty-led academic programs abroad. For example, students were also able to study Spanish language and Latin American Studies on a month-long program in Ecuador. On the faculty-led program in Scotland, students were able to receive credit towards the general education requirements in the School of Business, while also receiving practical hands-on experience by working on a consulting project with local Scottish businesses. WORLD has also contributed to faculty development around the internationalization of courses and programs. Since AY 2014-15, WORLD has given 34 awards to faculty to support their development around international topics and to encourage them to internationalize their classes and offer new programs abroad. WORLD also offers monthly Lunch and Learn discussions during the spring semester, which brings faculty together to talk about ways to internationalize campus.
Co-curriculum: The Peace Corps Prep program prepares cohorts of students for international development fieldwork and potential Peace Corps service. Each student enrolls in three courses that correlate with their chosen sector (education, health, environment, youth in development, and community economic development), three introspective courses to learn about others while reflecting on self in relation to others, and actions to better the welfare of others. The fall 2017 cohort enrolled six (6) students. Two graduates enrolled in the Peace Corps service in summer 2018. During spring 2018, Stetson enrolled a new cohort of 12 students to the program. At least two students intend to apply enter Peace Corps service upon graduation in 2019.
Technology: WORLD collaborated with Information Technology to transition and upgrade the Terra Dotta database software. The updated system allows the WORLD staff to better monitor program applications, student inquiries, and has an easier interface for our students, faculty, and staff usage. The upgrade has provided the opportunity to make more dynamic program pages that are appealing and easier to navigate. WORLD plans to continue updating existing pages and applications to the newer format for a streamlined look. In addition to ease of navigation and appearance, the log in process is simplified and users can log in using their Stetson ID and password versus a self-created password and login. By combining the Stetson data with Terra Dotta data, we are able to pull more accurate demographics and additional data about our applicants for a better understanding of the types of students applying to our programs.
International Student Mobility – Enrollment & Retention
In 2010, international students accounted for roughly 6% of the total undergraduate population. By 2017, the international population had increased by 54% , rising slightly to 6.5% of students and in step with increased undergraduate student enrollment overall.
Between 2014 and 2016, retention of first-year international students rose dramatically from 76% to 86% in response to intentional WORLD services and student programs. From a fiscal perspective, increased retention translated to an economic impact on Stetson University and Volusia County of $6.5 million in FY 2016-2017 alone (Institute of International Education, 2017). As of fall 2017, Stetson enrolled 206 international students from six continents and 64 countries.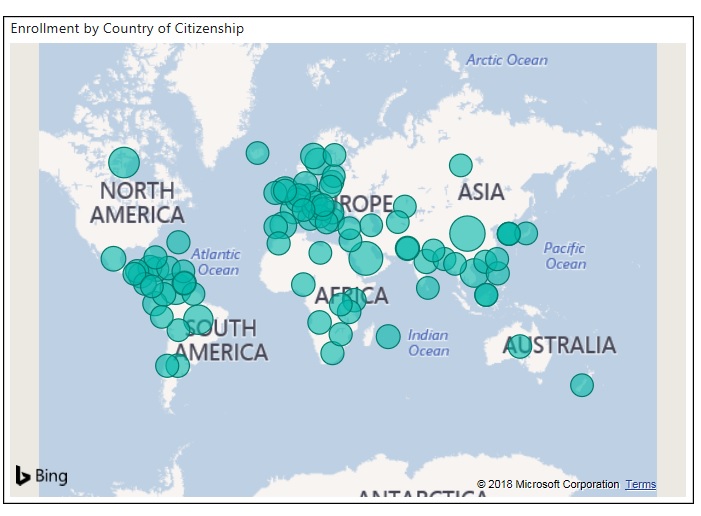 Student Mobility – Study Abroad
Over the past five years, domestic and international student participation in study abroad increased nearly 50% (below), due to strategic marketing of study away experiences, increased number of exchange partnerships, and a rise in faculty-led programs.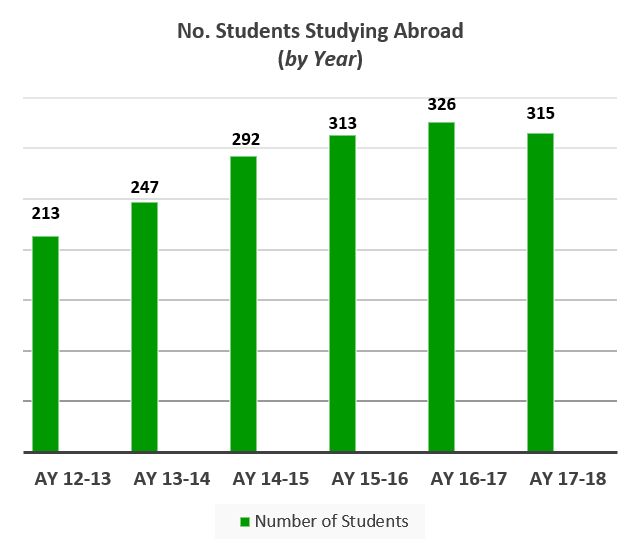 Scholarships for International Learning
The doubling of study abroad scholarship applications over the past two academic years (below) reflects increased student awareness and interest in study abroad.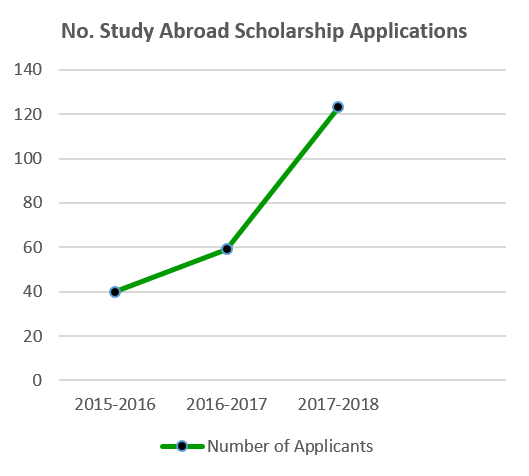 ---
FACULTY POLICIES AND PROCEDURES
Stetson University strives to implement policies and support mechanisms to ensure that faculty have opportunities to develop international and intercultural competence to optimize impact on student learning.
Institutional Procedures – Review & Approval of Faculty-Led Courses Abroad
Stetson University offers Faculty-Led Study Abroad programs over the course of the academic year, ranging from winter and Spring Break offerings to courses over multiple weeks during May-July. In 2015, WORLD implemented a formal review and approval process to execute internal and external logistics for programming and budgeting, , identify and forecast risk and risk management protocols, apply protocols and policies to ensure student safety and security; integrate standards for high-impact engagement abroad; align student learning outcomes and teaching learning outcomes with geographically/culturally-appropriate locations; evaluate elements of global learning using best practice frameworks.
Faculty Mobility – Grants for Professional Development Abroad
The WORLD Class Travel Awards Program provides grants for faculty travel to countries abroad to impact student intercultural learning. Introduced in Fall 2014, awards support travel for international faculty development seminars, exploratory travel to design courses/programs, and conferences or performances. The first awards supported travel to Tanzania in January 2014. The program has become a significant and expanding outcome of the initiative and key to the substantial increase in faculty-led study abroad programs.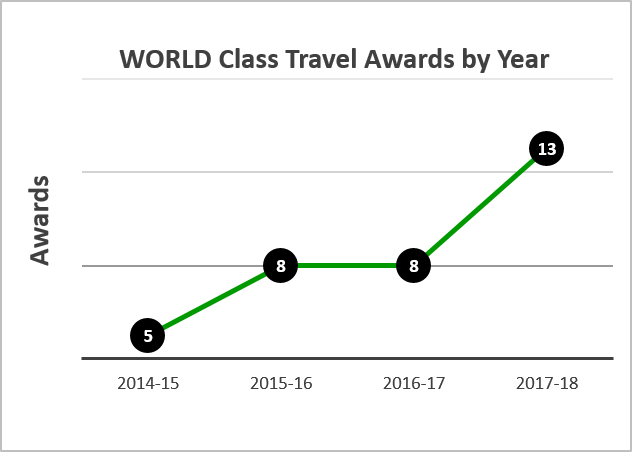 On-campus Professional Development – Lunch & Learn Series
The WORLD Class Lunch & Learn series features faculty, staff and other experts in the fields of international outreach, research, learning, and development. Each luncheon highlights a topic of interest in global learning for faculty and staff to share, learn, and help shape the direction of international learning and intercultural competence at Stetson University. Since spring 2015, WORLD has hosted 10 luncheons on topjcs
---
PARTNERSHIPS & EXCHANGE AGREEMENTS
Stetson University has a long and rich tradition of partnerships with institutions and organizations across the globe. Establsihing and maintating these relationships contributes to the Stetson's academic repetore (teaching and reach) and outreach missions, supported by WORLD in the service of student, faculty, staff and organizational learning. Recent expansions in agreements include Latin America & the Caribbean and Eastern Europe.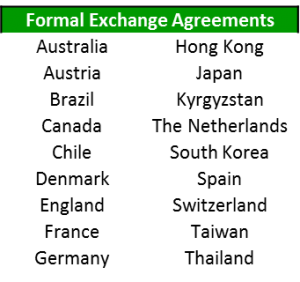 The University also maintains relationships with study abroad providers, who have hundreds of connections and centers around the world. Through these relationships, WORLD offers faculty-led study abroad programs. In 2017-18, for example, WORLD offered 12 faculty-led study abroad programs to locations such as Ecuador, Scotland, Austria, Serbia, and Thailand.