by Gabby Cassidy
Over Spring Break 2019, WORLD ambassadors Zoe Weaver and Caylyn Gunby attended the Global Student Leadership Summit in Boston, MA.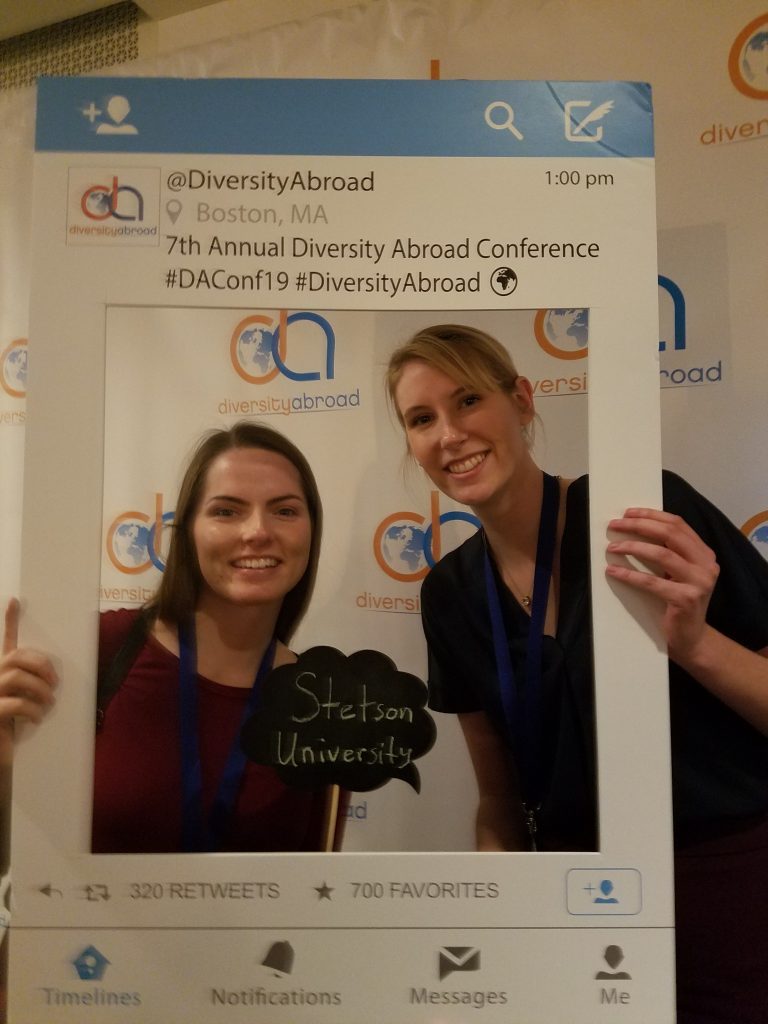 This conference, for students who had participated in study abroad and other international programs, had a goal to help them develop skills as successful global leaders. It also focused on students from diverse and underrepresented populations, such as first-generation, racial/ethnic minority, students with disabilities, high financial need, LGBTQ+, etc. Many face obstacles acquiring educational and leadership opportunities.
Throughout the conference, Weaver found herself learning more than she expected from the sessions. She was pushed to see the bigger picture of education abroad.
"I was pushed to see my study abroad as a time that I developed personally and was finally able to articulate the challenges of my trip to those who would understand. Then, after listening to others tell their own stories, I realized that we each had a unique experience that created the larger picture of diversity abroad."
The connections she made with other students helped her to understand her own experiences and the education she received while studying in South Korea and Taiwan. Weaver also learned about the importance of diversity in study abroad and was inspired to do more here at Stetson. She expressed her desire to connect with the Black Student Association, the Asia Pacific American Coalition, the Caribbean Student Association, and other multicultural organizations to develop more initiatives to get their members involved in study abroad programs.
"Although being a woman brings its own challenges to international travel, I further developed an understanding of my privilege during this conference as an able-bodied, white, American student. Through this understanding, I began to build a standard for myself when it comes to becoming an ally both abroad and domestically to students who lack the opportunity to do the same as I."
Gunby felt that the conference was a great professional opportunity for her. The panels and speakers had a profound impact and helped her feel confident in her plans post-graduation. The chance to connect with graduate schools and professionals, as well as other students in her same positions, helped her to reflect on her identity and improve her confidence in speaking about her experiences.
"Being able to speak with professionals who are now in International Education, who taught English abroad through JET, Fulbright, and TAPIF made me feel like I was taking the right steps towards a career in International Education or International Affairs."
Gunby would like to bring more networking opportunities to Stetson's campus for international careers. Events such as the Global Citizenship Fair and Acerima could benefit from having a keynote speaker or speakers from minority groups.
"The keynote speakers at the conference were inspiring and helped all of the students get involved and excited about the activities."
Overall, her experiences at the Global Leadership Summit helped her to grow professionally as well as to have more confidence in her abilities and plans for the future.