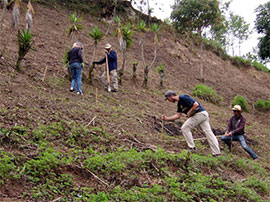 Through the Alliance for International Reforestation Inc. and Stetson, students are planting seeds for learning in Central America.
Since the year 2000, the Alliance for International Reforestation Inc. (AIR) has enjoyed a strong partnership with David and Leighan Rinker, longtime ardent Stetson benefactors, in offering transformational service experiences for Stetson students in Central America.
The partnership actually began when in 1999 David Rinker offered to support student trips with Anne Hallum, Ph.D., a Stetson political science professor and founder of AIR, through the Marshall E. Rinker Sr. Foundation. David Rinker had learned of Hallum's early experiences working in Guatemala — training farmers in sustainable agriculture and other services — and he wanted students to benefit as well.
Through the years, both literally and figuratively, it's been quite a journey.
Today, selected students — based on grades, a reflective essay and an interview — participate in three primary programs, along with academic assignments, over a period of four to six weeks. The word participate is used loosely.
Students build stoves with Mayan families and the AIR staff; they are actively engage at rural schools; they plant fast-growing trees on deforested slopes; and they maintain a journal of reflections on friendships made and lessons learned.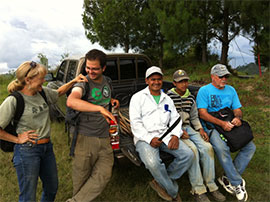 Camaraderie with locals is part of the AIR experience for students.
Over the years, for example, more than 100 stoves have been constructed — involving cement mixing and brick laying — to help prevent lung disease and conserve precious trees. Meanwhile, more than 45,000 fast-growing trees have been planted —up to 4,000 trees each month by hand on mountains — to improve crops and prevent mudslides.
The trips, clearly, aren't vacations, except for the Saturday "tourist days."
Last summer, in addition to building and planting, a student with a special interest in marketing shadowed Hallum to learn the nuances of fundraising and donor relations.
The travel expenses for each of those students, as well as for Hallum, are covered by the Marshall E. Rinker Sr. grant (with some funds from Latin American Studies when more students traveled). Those annual grants total approximately $9,000 each June, which cover hotels, food, ground transportation, small stipends and continual supervision by the AIR staff members.
For the students, the payoffs have been significant.
A first-year student was taught the "sheer joy" of an exhausting day of service (especially outdoors). An impressionable 19-year-old who spent six weeks with AIR in Guatemala now is an accomplished alumnus. More generally, AIR has impacted how student view the world.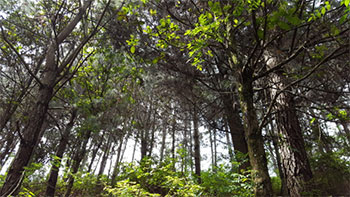 Thanks to charitable funding and Anne Hallum, Ph.D., a former political science professor at Stetson, students continue to participate in uncommon immersion abroad.
Until June 2012, Hallum taught full-time at Stetson and managed AIR's early growth in Nicaragua and Guatemala. She was able to combine the service work in rural Guatemala and Nicaragua with her own academic research, and to find ways for students to earn academic credits in independent studies such as immersion Spanish, environmental activism, Latin American studies: Mayan Culture, and religion and the environment.
Hallum left Stetson in 2012, moving to Atlanta to work full-time (non-salaried) as president of AIR-Guatemala. Yet, even today, by virtue of her personal ties to the university and the Rinker support, she continues to exclusively host Stetson students for lengthy immersion experiences.
Not coincidentally, in 2017 AIR Guatemala received its second recognition from the United Nations, as a winner of the 2017 Equator Prize, presented by the United Nations Development Programme.
As a result, a reforestation organization founded on the third floor of Elizabeth Hall at Stetson more than 25 years ago now is globally acclaimed. Even greater, it continues to provide uncommon experiences of growth for Stetson students.
-Michael Candelaria
Originally posted at Stetson Today on February 25, 2019